Tuscaloosa Teen Rides for a Cure

Sep 09, 2016 05:30PM, Published by Kitty, Categories: Health+Wellness, Teens & Tweens, In Print, Family, Today, Community
---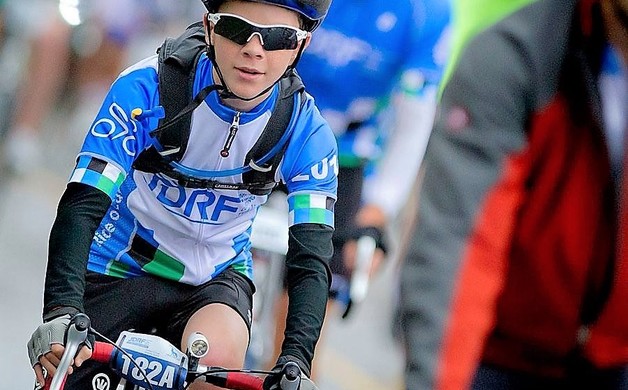 ---
By Cameron Crouse
My name is Cameron and I live with a disease that has no cure.  That disease is Type 1 diabetes.  
I was diagnosed with T1D a month before my third birthday in 2004 and honestly, I don't remember much about it.  I don't remember life before diabetes.  My mom jokes that the one time she gave me a milkshake, she caused my T1D.   That couldn't be further from the truth.   I didn't get type 1 diabetes because of something I ate, lack of exercise, or from being overweight.  My pancreas just stopped producing insulin.  No one knows for sure what causes diabetes, but scientists are getting closer to that answer every day.  My family has no history of T1D, so my diagnosis has changed my and my family's lives forever.
Type 1 Diabetes is an autoimmune disease in which the body's immune system attacks and destroys the insulin producing cells of the pancreas. Insulin is the hormone that converts sugars into energy. Without insulin, a person with diabetes can't survive. Insulin is not a cure, and there is not a cure, yet.
Living with Type 1 diabetes is different, but it has never stopped me from doing anything I wanted to do.  On a normal day, I go about the activities of any normal 16 year old. I play football and baseball at my high school, and basketball with my friends in my spare time. I also love to just spend time with my family, friends, and with my dog Hokie. But the difference between my life and that of a normal teenager is that I constantly work to keep myself alive.  In order to manage my diabetes, I  check my blood sugar eight to ten times a day.   This means I use a sharp device to get blood out of my finger and test my sugar level with a meter.  I do this before and after I exercise, eat, and any time if feel like I don't have enough sugar in my body.  I even check my blood sugar before I take tests at school because too much sugar in my blood can impact my brain functioning.  Now, thanks to technology and research that the JDRF has funded, I wear a device under my skin that continuously reads my blood sugar.  This device, called a continuous glucose monitor (CGM), helps me better monitor my diabetes.  It tells me what my blood sugar is all the time.   I manage the amount of sugar that is in my blood by taking five or more insulin injections daily.  Some kids prefer an insulin pump which constantly infuses insulin in to their bodies, but I prefer shots.  Multiple fingersticks leave a diabetics fingers scarred, and the shots leave my arms, legs, and stomach bruised. The constant worry of an extreme high or low blood sugar episode is pretty stressful, but there is no other choice.  TID has never one time stopped me from accomplishing anything I have put my mind and body to.  I have type 1 diabetes, but it doesn't have me.  
After I was diagnosed, my parents became very involved with the JDRF.  The JDRF (Juvenile Diabetes Research Foundation) is the leading charitable funder and advocate of Type 1 diabetes research worldwide. The JDRF proudly contributes over $100 million annually to diabetes research. My parents believed that the JDRF would be a part of the cure, so our family and friends started fundraising for my Walk Team, Cameron's Crew.   My parents and their friends host an awesome fundraiser each year called the Wine for The Walk.  Since it started in 2004, the Wine for the Walk has raised well over $100,000 for research for a cure.  I am proud to say that Cameron's Crew is one of the most successful Walk Teams in Alabama.  
The Ride to Cure Diabetes has become an important part of my JDRF  fundraising.  In 2013, in honor of my tenth year of having diabetes, my dad and I became part of  the JDRF Ride Family.  The JDRF hosts six to seven rides a year.  A rider can choose to ride 48, 72, or 100 miles (Century).   My Dad and I ride the Century.   In my first Nashville ride, I was presented the Best Young Rider Jersey.  In 2014, for my second JDRF Century Ride, I was once again honored as the Best Young Rider.  No other youth rider had ever won this honor twice.  In 2015, the JDRF Ride took us to Tucson where we rode through the dessert.  This year we will ride our 100 miles through Death Valley, CA October 13-16.  It will be our most challenging ride yet.  I love the Ride to Cure because it brings together a large group of people that are working for the same cause as I am.  It is hard to put in to words the camaraderie that is present among JDRF Riders.  The Ride itself is also a wonderful experience. The scenery is always beautiful, and the feeling of crossing the finish line and knowing you've completed something you've trained so hard for is exhilarating.
Approximately 1.25 million Americans are living with T1D including about 200,000 youth. Forty thousand people are diagnosed each year in the U.S. with T1D.   The good news is that even in thirteen years that I have been living with diabetes, I have seen amazing advances in research and technology.   Every day I am encouraged by a new study or a new device to help me better control my diabetes.   That hope is due in large part to the research funded by the JDRF, research that is moved forward by every donation that has ever been made to my Walk Team or Ride.  I am proud to be a part of my cure and am forever thankful to all of you for your donations and all you have done to turn Type 1 into Type NONE. 
---
---