Family Fitness

Oct 04, 2016 02:06PM, Published by Kitty, Categories: Health+Wellness, In Print, Family
---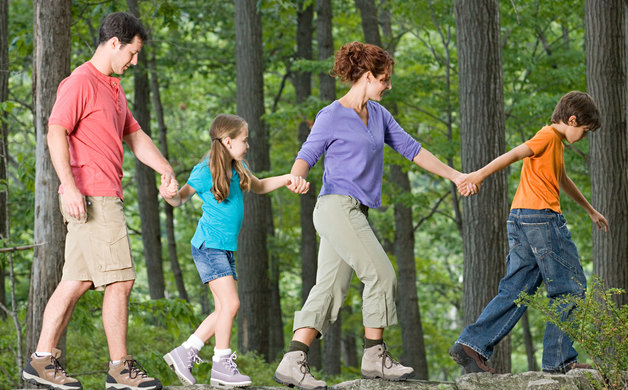 ---
Summer has ended and most everyone is back to a normal routine, which likely means you are also more sedentary. While the summer was filled with swimming and playing on the lake, fall is anything but active unless you are a kid involved in sports. This still leaves many other kids and adults with little to no physical activity on most days. That's why it is so important to make physical fitness a common component of your family.
There are many benefits from exercising, with the most obvious being that you will have a healthy heart and a healthy weight. Your mental and emotional health will improve too, which is really important during the stresses of school and the upcoming holidays. Another positive side effect many people overlook is that when families get exercise together, they bond. I guess you could say, "The family that plays together stays together."  
One misconception in fitness is that exercise has to be something like working out with weights, taking a gym class, or using cardio machines. All of those methods are awesome, but you can get exercise in many other ways. Concerning weather, fall is the best time of year to get outside in Alabama. There are many hiking trails and places for families to walk or ride bikes together. Taking kids to a park is another great option that is also free! Little ones could enjoy the playground, while older kids can play on the ball fields or rock climbing walls.    
Just in case the weather isn't so nice, many gyms now have indoor recreation facilities that can be used year-round. These include indoor pools and running tracks, tennis or racquetball courts, basketball courts and more. Activities like swimming will also help kids to not feel so bored after summer has ended. If your kid is interested in a particular sport, utilizing gym facilities is a good way to help him or her get in some extra practice or training while having fun with you.
You can also have fun as a family and get some exercise by choosing active outings. When you have a family night, think of something that is not so sedentary. Instead of always opting for a trip to the movies, visit a trampoline park or the batting cages. Even activities like miniature golf and riding ATVs help kids get outdoors and enjoy something more physical than simply watching a screen. If you like tailgating, consider going in with some friends and renting a bouncy house for the day so that the kids can play.
Even if you just start walking around the neighborhood or raking leaves together, your family will soon get in the habit of incorporating fitness into your everyday lives. Not only will you feel better and have more energy, but you also will learn to love being active. Once the holiday season rolls around, you will be glad you got in the routine of working out.  
Author Bio: Kaci Lane Hindman lives in Northport, AL, is married to Blake, and is the mother of Lane and Blakely. She works as a writer, editor, graphic designer, stand-up comedienne, and gym instructor, and blogs at kacilane.com.
---
---