Tiger Rock: Celebrating 35 years of martial arts in Tuscaloosa

Nov 04, 2016 08:20PM, Published by Kitty, Categories: Teens & Tweens, In Print, Family, Community
---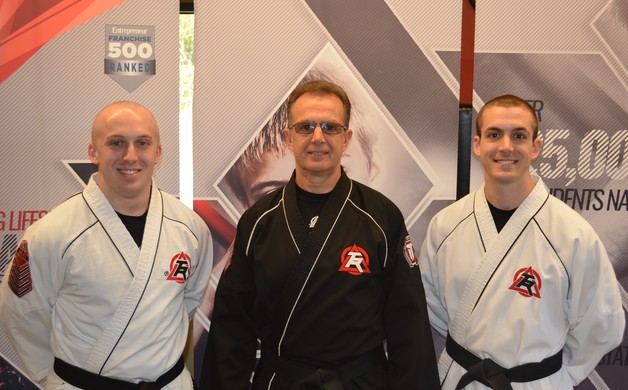 ---
Tiger Rock's R15E Program: The Story of Transformation
"Celebrating 35 years of martial arts in Tuscaloosa"
Goal: Transformed lives!  At Tiger Rock Martial Arts, founder James Bailey has a goal for all students….. that they will experience the positive life transformation that martial arts training brings.  That has been his goal for the past 35 years and it continues to be as he watches his sons continue in his footsteps of transforming lives.  
Tiger Rock describes and details this transformation through what is called the "15 Step RISE Program".  When a student begins training at Tiger Rock, there are many different goals that parents have for their children and that adults have for themselves including but not limited to: improved confidence, improved social skills, improved strength and conditioning, learning practical self-defense skills, improved fitness levels, improved self-control and discipline, stress relief, and much more.  Tiger Rock instructors are nationally certified to work with children ages 4 and 5 in a program called the Tiger Cubs program; children ages 6 to 10 in the Juniors program; pre-teens and teens ages 11 to 15 in the Youth program; and teens and adults ages 16 and up in the Adult program (with adults currently training up to the age of 65).  The "15 Step R15E program" describes the transformation that takes place in a student from the first level of White belt through the 15 steps that a student takes in earning and receiving a level one first degree black belt.  The RISE program follows the following phases: Choose, Commit, Grow, Achieve, Distinguish, Influence, and Transform.  Each phase is broken down into steps of how you Grow, how you Achieve, how you Distinguish yourself from others, how you become a person of Influence, and more.  These are lessons taught daily in the Tiger Rock classrooms as students progress toward black belt.  Once a student earns his or her black belt, the transformation continues, but the focus as a black belt is that you move toward learning how to help transform others around you.  
In 1981, James Bailey moved to Tuscaloosa County and opened up a martial arts business in the Wood Square shopping center.  He began his dream of transforming lives through martial arts at age 21 with no students, some old duct taped carpet flooring, and lots of passion for training in martial arts and for helping others.  In 1981, prior to the movie Karate Kid being released in 1984, most of Bailey's students were adults.  After the release of Karate Kid, more parents started to see and realize the tremendous benefits of martial arts training for children as well.  What has happened over the past 35 years is truly amazing.  For any business to stay in operation for 35 years is very special.  For it to grow from one into three is very special but to grow and expand nationally all over the country is exceptional!   What started out as one academy has now grown into 3 local academies (Tuscaloosa: 13th Street E; Hillcrest: Patriot Parkway; Northport: Hwy 69 N) with over 700 students actively training between the 3 locations.  Not only that, but 19 of Mr. Bailey's students through the years have decided to follow in his footsteps and open Tiger Rock academies of their own throughout the country through Tiger Rock's national franchise model.  There are Tiger Rock schools in cities like Montgomery, AL; Jackson, MS; Atlanta, GA; Tallahassee, FL; Lexington, KY; Hattiesburg, MS; Alamagordo, NM; Huntsville, AL; Kansas City, KS; and more based on his influence and the shared dream of transforming lives through martial arts training.
What makes the story at Tiger Rock even more special is that not only have 19 other men and women chosen to follow in Mr. Bailey's footsteps, his own sons have also made that choice.  As seen in the photo on the front cover and the photos on this page, Brett Bailey (28) and Tyler Bailey (26) have both chosen to continue in the "Life Transformation" business.  Brett operates the 13th street location while Tyler operates the Hillcrest location.  Both Brett and Tyler began their training at age 4 and have not missed a beat ever since.  Their passion for the students is evident each and every class.  The Northport location is owned and operated by Michael Holt and Melissa Holt, two more of Mr. Bailey's students who chose this for a career.  Mr. Holt says "It is truly amazing to see the footprint that Mr. Bailey and Tiger Rock has had on this community but also on the country in general.  There are literally tens of thousands of students who are currently training in martial arts somewhere in the United States because of Mr. Bailey's influence.  He inspired me to choose this for a career and it is great to be able work side by side with him and his sons as we continue to grow Tiger Rock in this area and nationally.  My life has truly been transformed but also my family has been transformed as my wife and both my children (ages 10 and 8) are growing and training in martial arts as well.  To see someone walk into our academy who is lacking confidence, who needs physical fitness, who needs personal protection skills..... to see them transform though martial arts training into someone who is confident and physically fit really makes it all worth it.  That transformation is amazing!"
For more information about Tiger Rock Martial Arts, visit www.BaileysTKD.com, or visit their Facebook pages (just search Bailey's Tiger Rock).   Tiger Rock is currently enrolling students and would love to help you begin your transformation today!
---
---