Victorian Front Porch Christmas Tour - Opelika, Alabama

Nov 04, 2016 08:35PM, Published by Kitty, Categories: In Print, Travel, Family
---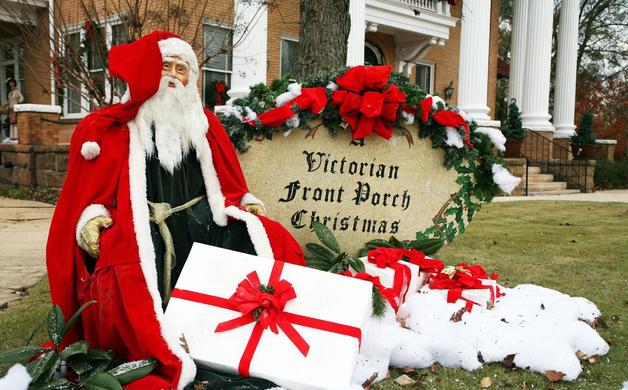 ---
Victorian Front Porch Christmas Tour
Opelika, Alabama
By Linda Holloway
Opelika's Victorian Front Porch Christmas captures the essence of Christmas past with festivities for the entire family. For five days in early December, 60 Victorian and historic homes near downtown Opelika are transformed into colorful, nostalgic reminders of Christmas from a bygone era. The homes are adorned with life-sized Santas, angels, toys, carousel horses and other themed figures, as well as Christmas lights, bows and greenery. Now in its 23rd year, the event has been featured in publications such as Southern Living, Better Homes and Gardens and Southern Lady. Voted as one of the Southeast's Top Tourism Events, visitors flock to Opelika's Northside Historic District to experience Old World charm.
The Victorian Front Porch Christmas Tour is a self-directed driving tour. However, on Saturday night, December 10, North 8th and 9th Streets will be closed to traffic to encourage visitors to stroll through the neighborhood. This enables everyone to leisurely enjoy the homes up close, listen to the carolers, costumed musicians and theater groups, along with storytellers located on the porches. Visitors enjoy talking with residents in Victorian costumes.  The tour begins at North 8th Street and 2nd Avenue and includes over 10 city blocks. Admission is free!
The favorite mode of transportation for youngsters is the trusty Red Ryder wagons. Parents use their imagination to decorate the wagons with battery- powered Christmas lights and wreaths. The word of choice from kids is "look-look." I promise you will hear peals of joy and laughter and not one "bah humbug" from anyone.  The tour began in 1993, with a few homes participating when former resident Jan Jones created six foot Santas and placed them on a few porches.  The neighborhood came together to expand the event by collecting draperies and fabric to make costumes. Today, DiAnn Cullinan repairs the original Santas, enhances them by adding new costumes and accessories and creates new ones. You can purchase DiAnn's santas at "The Gallery" on Railroad Avenue in Opelika. Take time to weave in and out the row of specialty shops in this part of town. Victorian Front Porch Christmas: Lighted Driving Tour: Wednesday, Dec. 7, 2016 through Sunday, Dec 11, 2016 – 5-10 p.m.  except for the Walking Tour: Saturday, December 10th, 2016 – 6:00-9:00 p.m. For more information, visit www.opelikavictorianfrontporchtour.com and www.aotourism.com.
Christmas in a Railroad Town
Designed with kids in mind, the Christmas in a Railroad Town is part of the Front Porch Christmas event. Taking place on Railroad Avenue, 8th Street and 9th Street, kids can count on Santa making an appearance. Enjoy the tastes and smells of the season through a variety of outdoor vendors or experience one of the family restaurants.
 Always a favorite is the miniature train ride and pony rides. The Children's Village provides captivating entertainment by providing budding artists with creative crafts they can take home free of charge.  The train rides load on the corner of 9th Street, and Railroad Avenue and pony rides are available on Railroad Avenue. Trolley rides are available at the Museum of East Alabama. Also, a wagon will travel through the Victorian Front Porch Christmas tour and departs from the corner of 8th Street and Railroad Avenue during the driving tour/Railroad Town event.
For adults, Studio 3:19 will have fun games to play while shopping around. Adults and children alike will enjoy making s'mores treats (free) at Spa 180 on Avenue A.  Parents will want to check out the unique shops in Opelika such as Taylor Made Design-handmade jewelry—many designs made with little girls in mind. O Town Ice Cream Shop, James Brothers Bicycle Shop and other retail shops will be open late.
For family dining, experience Niffer's at the Track where the hand-patted burgers are famous.  Made fresh daily, the burgers are big and juicy. Start off with the corn fritters, and then choose the burger that suits you. The most popular burger—the Bacon and Cheddar. The "toppings" selections are expansive, and when you are finished with your made-to-order burger, it's impossible to leave hungry.  Order a side of onion rings and baked chips for the perfect meal. The Kids Menu consists of favorites such as the mini corndogs, pasta, and of course, cheeseburgers. Be sure and ask about the Kiddie Fish Bowl.
Christmas in a Railroad Town: Friday, December 9th from 6 p.m. to 9 p.m. For more information, visit www.opelikaMainStreet.org
Auburn Marriott Opelika Hotel and Conference Center at Grand National
The golfer in the family will especially enjoy the family trip to Opelika if you lodge at the Auburn Marriott Opelika Hotel and book a tee time at the Grand National.  The hotel was one of two destinations along the Robert Trent Jones Golf Trail to be named an "Editor's Choice Resort" by Golf Digest. The hotel has recently completed a major makeover. Guest rooms have been remodeled to include 49-inch televisions, and guest baths have been upgraded with granite vanities and full glass shower surrounds. Clean and fresh is the best description! With 129 rooms and 15 suites, all of which face the Grand National golf course, families have several room options to choose from depending upon preference and budget.  Be sure to ask about the spacious, family-friendly Kitchen Suites, or the standard Double Room that has two queen beds with an optional connecting room.  
Breakfast is served in the Lakeview Room Restaurant each morning.  The breakfast buffet was our favorite with buttermilk biscuits, Applewood smoked bacon, cooked to order omelet and waffle station and dozens of other breakfast delights. The kids can eat at the buffet for a reasonable price or order from the Kid's Menu where the most popular menu item can be found---pancakes.    Once the kids spy the expansive pool area, they will want to return in the summer. I sent my niece, the world traveler, a photo of the pool area from our balcony and asked, "Where am I?"  She guessed some exotic resort in the Caribbean. Yes, it is just that upscale, and the best part…it is in Alabama.
 Visit: www.marriottgrandnational.com
Golf—Robert Trent Jones Style
Grand National has three 18-hole courses and is home to PGA TOUR's Barbasol Championship July 17 - 23, 2017. This event attracts the "big names" in the golfing world.  It is easy to see how the Robert Trent Jones courses, including the Grand National was named the best public golf in the country by Golf World readers. "Grand National was the most beautiful site for a golf course I have ever seen" said Robert Trent Jones. The Links is the cornerstone of the Grand National complex, and its 18th hole is billed as the strongest finishing hole on the pedestal green shored up by boulders. The Lake course includes 12 holes that hug the lake's shore, and its 230-yard island green on the 15th hole might be the prettiest hole on the entire Trail. More than half of the Short Course's 18 holes touch the lake. Green fees range from $40 to $62. Visit: www.rtjgolf.com/grandnational/
---
---