ON OUR COVER: The Tuscaloosa Symphony Orchestra Presents Lemony Snicket and More Great Stories!

Jan 02, 2017 04:49PM, Published by Kitty, Categories: In Print, Family, Today, Community
---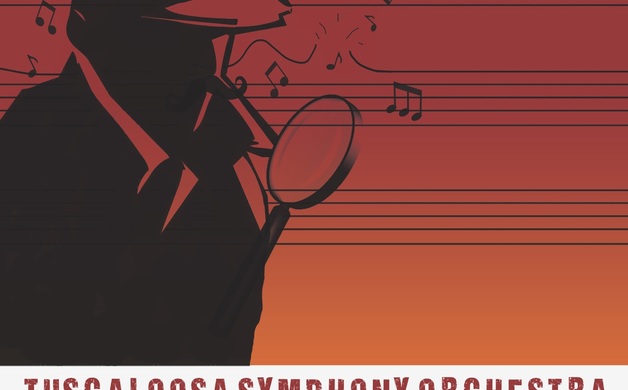 ---
On March 10, 2017, the Tuscaloosa Symphony Orchestra will present their annual Family Discovery Concert featuring a story by Lemony Snicket!  This year children of all ages will help a detective solve the mystery of The Composer is Dead with music by Nathaniel Stookey and story by Lemony Snicket.  Joe Lay of Actor's Charitable Theater will bring the role of the detective to life and help children learn how the orchestra works together to solve the mystery.  Hometown legend, Demondrae Thurman, will conduct the TSO bringing his vibrant style to the stage for this enchanting performance.
Joey Lay began The Actor's Charitable Theatre in 2010 with the help of his wife, Alisha. He has served as the artistic director for the organization since its inception. Joey serves in many roles as artistic director, including set designer, light designer, and costume designer.  This is the first time the TSO and ACT have collaborated on an event.
This year's Family Discovery Concert will be at the Bama Theater, a change from last year's location.  "We are excited to have the opportunity to bring this story by the beloved children's author, Lemony Snicket, to life in such a beautiful space." said Jenny Mann, Executive Director of the Tuscaloosa Symphony Orchestra.  "The historic theater will be an exciting place to solve such a fun musical mystery." 
Lemony Snicket is the pen name of American writer and journalist, Daniel Handler.  He is most famous for his series A Series of Unfortunate Events and All the Wrong Questions.  Ticket prices for this concert are only $5 and $10.  The concert begins at 6pm, is a casual environment, and lasts for only one hour so young children can come and experience this fun and interactive show.  Doors open at 5pm for the TSO Guild's annual Instrument Petting Zoo.  Kids will have the opportunity to try instruments from all instrument families.  This is a great chance to spark in interest in music for very young children. 
Through generous support by the James I. Harrison Foundation and the Blue Cross Blue Shield Caring Foundation of Alabama, the Family Discovery Concert will also be performed on March 10 at 9, 10 and 11am for all Tuscaloosa City, County, private and homeschooled fifth grade students.  This educational concert series has become an annual tradition that students and teachers look forward to every year.  Teachers are provided with curriculum guides and lesson plans to introduce classical music and The Composer is Dead to students prior to the concert.  These curriculum guides work in conjunction with the state educational standards. 
The Tuscaloosa Symphony will play two more concerts in addition to the Family Discovery this season.  The next event is Monday, February 6 at 7:00pm in Moody Concert Hall.  Celebrating Great Love Stories II will feature the well-known love story Swan Lake and piano soloist, Amy Yang, performing the Schumann Piano Concerto. 
Hailed by The New York Concert Review as "a magnificent artist and poet", pianist Amy Yang is a seasoned soloist, chamber musician, and pedagogue.  Ms. Yang is an alumna of Curtis Institute of Music, Juilliard School, and Yale School of Music, where she received the Parisot Award for an Outstanding Pianist and the Alumni Association Prize.  Recent engagements include performances with the Saint Paul Chamber Orchestra, soloing with Penn Symphony Orchestra under Thomas Hong, and returning to Weill Recital Hall at Carnegie Hall, Kennedy Center, Gardner Museum, and Phillips Collection. "Amy Yang's artistry is impeccable," said Music Director, Adam Flatt, "Her performance of the Schumann Piano Concerto will enchant the audience and make the concert and evening to remember."
On April 24, 2017, the Tuscaloosa Symphony Orchestra will conclude their season with their spectacular Side-by-Side concert with the Huxford Symphony Orchestra.  The Huxford Symphony is the orchestra of the University of Alabama School of Music, conducted by Dr. Blake Richardson.  Each orchestra will perform one piece alone then both groups will join to form a spectacular double orchestra to perform Respighi's Fountains of Rome and Ravel's Daphnis and Chloe, Suite no. 2.  Maestros Flatt and Richardson will share the podium for this event. 
"This will be an orchestra of epic size and sound.  It is the largest orchestra that's ever been on our stage.  It's a great opportunity for our UA students to get an experience performing with a professional orchestra." said Blake Richardson, Director of Orchestral Activities at the University of Alabama.  The Huxford Symphony will perform Beethoven's Leonore Overture and the TSO will perform Ravel's Le tombeau de Couperin.  Young students just beginning their music study are welcome at this concert and may also attend rehearsals.  Student tickets for this and all concerts are available for just $10.  For more information, please email tso@tsoonline.org.
The TSO has been West Alabama's own professional orchestra since 1984 and is committed to collaboration with the arts community, to build educational opportunities, and to contribute to the economic growth of the Tuscaloosa area and West Alabama.  Tickets are available at www.tsoonline.org or by calling (205) 752-5515.  Come and experience the great joy and wonderment that classical music can bring!
---
---