Pioneer61

Jan 23, 2017 10:54AM, Published by Kitty, Categories: In Print, Family, Community
---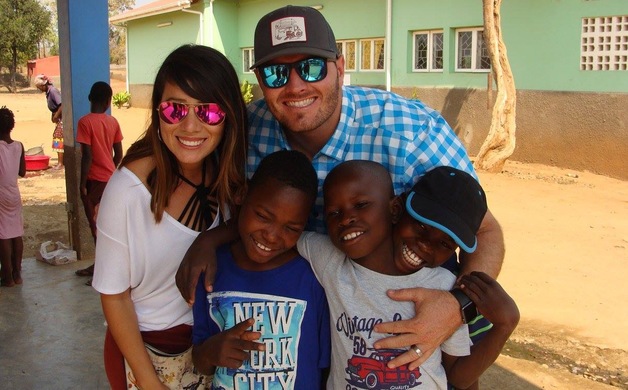 ---
Pioneer 61: What God can do with a Simple "Yes"
By Nick and Marlene Boyd, with contribution by Traci Taft
Nick's Story
I was born and raised in Tuscaloosa, Alabama. Growing up in a small middle class family that never ventured far outside of the southeast much less overseas I never imagined my life would turn into the everlasting adventure that it has become.  I graduated from Hillcrest High School in 2003 and then attended Shelton State Community College as well as the University of Alabama where I majored in Construction Engineering. Before I even graduated Alabama I landed my dream job in Tuscaloosa working as an Assistant Superintendent for large construction company. While working in the corporate construction industry the Lord began to work in my heart and started drawing me to Foreign Missions. I had been on a few mission trips to Mexico before but it wasn't long until I was giving up what I thought was my dream job to follow God wherever He wanted me to go.  Unbeknownst to me, God's plan for my life was so far greater than the "little plan" that I had laid out for myself.  Now, I've been living in one of the world's poorest countries Mozambique, Africa for almost 5 years and I couldn't imagine wanting to be anywhere else in the world! I've had the privilege to travel to countries all around the world sharing the love of Jesus with the poorest of the poor as well as some of the wealthiest people on the planet. Through following Jesus's plan for my life he has rewarded me with two of the greatest blessings in the world, my gorgeous world changing wife Marlene Boyd and my precious 4 year old son Praise Alan Boyd. 
My wife and I founded PIONEER61 Inc. a 501(c)3 non-profit organization in 2011 and we have built an orphanage called Shekinah Healing Home in Tete, Mozambique where we rescue and take in abandoned orphan boys from the streets and we also rescue women from Human Trafficking and teach them trades to live self-sustained lives outside of sex-slavery. I want to leave you with a thought that I pray will stick with you forever…. A few years back when I began this journey the Lord showed me a vision that changed my life and helped guide me to the path that I'm on today. One afternoon I read a scripture from 1 Corinthians 3:9-15 where it talks about our lives being tested with fire. After reading the passage I had sort of a vision where I saw myself as if I had died and was standing outside of Heaven and the Lord showed me my life up until that point and then he threw my life into the fire.  As I stood back and watched, the majority of my life burned up in flames as if it were dry hay in a hot fire. Why? you ask… The Lord showed me that up until that point in my life I was selfish. I had built my life on the things that I wanted and what I thought would be good for myself. I had never sought the Lord out for His plan for my life. He looked at me with disappointment in His eyes and said, " You missed it son. You never even asked me what I had for you." I made it into Heaven because I was a believer but it wrecked me seeing that my Heavenly Father wasn't pleased with me and He didn't say "Well done my faithful servant!" Seek Him while you can and don't miss it, He has a plan and purpose for your life too!
Marlene's Story
Marlene grew up without fully understanding the agape love of Papa God. Raised without ever meeting her earthly father, she spent the majority of her adolescence running away from God and the calling He had for her life. After three near death experiences in a matter of just four short days, Marlene decided to surrender to The Lord and devoted the summer of 2010 to Jesus in Pemba, Mozambique. While there, Marlene found herself searching for answers to a life-long question of whether or not Jesus truly loved her. It was shortly after that she finally experienced God's true nature of overwhelming, radical love. After experiencing the love of The Father she laid down her desire of becoming a fashion designer and moved to Africa in pursuit of His true calling on her life. Now burdened with an overwhelming urgency to share the love that the Father has for all people, Marlene spends the majority of her time and efforts aiding the poor, orphans and prostitutes of Tete, Mozambique. After surviving sexual abuse herself, Marlene's passion is to pioneer the way to a world free of orphans, sex slaves and prostitutes one soul at a time.
When Marlene and I began our journey together with the Lord in 2011; we began with two simple words…"YES LORD!" We both had given our lives fully to the Lord to walk and live as laid down lovers and disciples of Jesus Christ. we wanted to dive right into the heart of Jesus saying YES to whatever and however He wanted to use us to spread the gospel and Glorify His beautiful name.
Pioneer 61
Our ministry began with the Lord calling us to the "least of these", a group of abandoned orphaned street boys living in the streets of Tete, Mozambique, Africa. Marlene had been living as a missionary in Tete for a year prior to her and I meeting. I graduated from the Iris Global Harvest School of Missions and went to Tete on an extended outreach. While in Tete, the Lord broke my heart for these fatherless young boys sleeping in a trash dump and picking through the trash daily to find food.
We married in the states in January of 2012 and moved to Tete in February, only one month after our wedding day. We founded PIONEER61 Inc. from the scripture Isaiah 61. In Isaiah 61:1-3 it is written, "The Spirit of the Lord God is upon Me, Because the Lord has anointed Me to preach good news to the poor; He has sent me to heal the brokenhearted, To proclaim liberty to the captives, and the opening of the prison to those who are bound; To proclaim the acceptable year of the Lord, And the day of vengeance of our God; To comfort all who mourn, To console those who mourn in Zion, To give them beauty for ashes, The oil of joy for mourning, The garment of praise for the sprit of heaviness; That they may be called oaks of righteousness, The planting of the Lord, that He may be glorified." The Lord spoke to Marlene and I and said, " I want you to walk out what I began, go and preach my good news to the poor…".   He told us that we were His "little pioneers" and that we'd pioneer generations into fulfilling their purpose for the Kingdom.
As a growing ministry family and through the guidance of the Holy Spirit we've built Shekinah Healing Home to rescue orphans and Marlene is discipling widows in the gospel and creating self-sustainable jobs for ladies in the sex-slave trade through her White As Snow ministry. "White As Snow" began with a passion in Marlene's heart to rescue girls from the sex-slave trade industry.
While praying one night about going to India to rescue girls in the industry there, God spoke to Marlene and said, "Marlene I've given you authority over Tete, go and claim it... the streets are filled with girls who are lonely and broken, go love them!" Marlene then asked the Lord to show her how He saw them so she could see them with His eyes, He simply said, "WHITE AS SNOW." It broke Marlene for women worldwide who are bound in chains of darkness having to give themselves away just to eat, feed their children and get by day to day. In Tete, the White As Snow project began with one beautiful young lady who was basically forced to sell herself daily to be able to feed her 9 month old baby at home. Now the White As Snow Project has grown into one of the largest parts of our ministry.
The first door that Jesus opened was for us to hold a bible study weekly in the largest brothel in Tete. The madam of the brothel allowed us to come weekly, lead worship, teach the word of God to the girls, and love on them. We've painted the brothel and renamed it "House of Joy" as a prophetic act that Jesus transforms us from the "inside" out and gives us joy amidst the hardest circumstances. This brothel had 38 ladies when we began and after 4 months the majority of the ladies accepted Jesus as their Lord and Savior. Being that only 4 were left in the house we were asked not to come back but we are believing to be invited again to see that brothel completely emptied.
Marlene had been praying that Jesus would give her an opportunity to rent a room in the middle of all brothels so she could begin a weekly bible study. We now have a room that was previously used as a brothel but is now our "Prayer Room". This is where we have our Bible Study each week and many of the ladies are coming to join in prayer, worship and to study the Word. Many of the ladies have asked Jesus into their lives and transformation has begun in Quachena. We are believing that all the brothels will be closed in Jesus name.
The heart of White As Snow is to do more than a bible study. Our heart is to see these beautiful women completely set free from the sex trafficking industry so we created White As Snow Designs. At White As Snow Designs we currently have 15 ladies who work full time making paper bead jewelry. Currently, our designs are being sold in Tuscaloosa at Heritage House & Beauty Bar and in Northport at Gracefully Done & Bama Tan. You can also find some of our products at www.etsy.com, store name WhiteAsSnow61. All proceeds from the sales of jewelry go directly to the White As Snow ladies and the development of the White As Snow vision to see prostitution in Tete abolished. As Marlene always says, "giving up is not an option" so we are going to keep laying down our lives until we see complete FREEdom in Tete. 
God has also opened doors for us in the gourmet coffee industry. We have partnered with an incredible coffee bean farmer and roaster from Zimbabwe. We recently launched our delicious new coffee and it is now available in the U.S. at our coffee website: pioneer61coffee.com 100% of the proceeds go back in the ministry. We are praying and faithful that the Lord will provide the financial support for us to continue to grow our infrastructure and continue rescuing orphans and trafficking victims while spreading the love of the gospel to our local community in Tete and throughout the world. 
Jesus Christ is the reason for everything we do. We want to exalt His Holy name in every aspect of our lives and our ministry. If you'd like to partner with us or read more of our story, you can check out our website at Pioneer61.org. 
From T-town to Tete...Never in a million years would I have guessed THIS would be God's awesome, adventurous and amazing plan for my life! 
---
---