ACE Is The Place

Mar 02, 2017 07:21PM, Published by Kitty, Categories: Teens & Tweens, In Print, Today, Community
---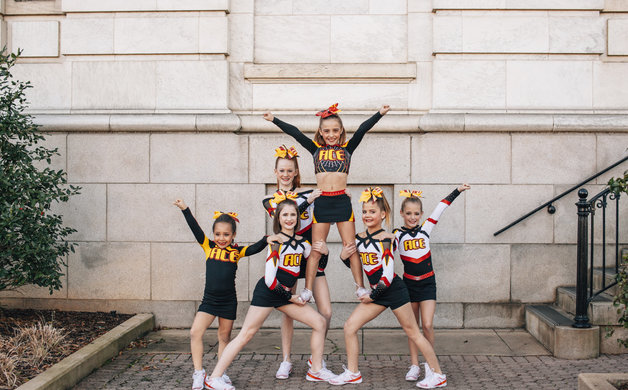 ---
ACE of Tuscaloosa is West Alabama's largest cheer training facility.    Our 12,000sq ft. facility offers 3 large cheerleading floors, tons of training equipment, and observation area with an experienced, elite staff.   ACE of Tuscaloosa is owned by Christa Sanford. 
Kentucky native, Christa grew up in cheerleading and power tumbling.   She graduated from Morehead State University winning 5 national championships.  Along with her college training, she worked for Universal Cheerleaders Association for 13 years teaching across the country and internationally.  In 2002, she moved to Tuscaloosa to work as a manager for Cheer Authority (now ACE).   Since her move to Tuscaloosa, Christa became the cheerleading coach at Shelton State Community College where the team recently earned their 10th consecutive national championship.  Christa is also currently an assistant for the USA Cheer Co-ed National Team, which has earned 2 gold medals and 1 silver medal in the world championships.  
Cheerleading is growing more and more popular amongst young athletes male and female.  It provides a challenge, athleticism, teamwork, and can provide opportunities beyond cheerleading such as confidence, presence, and communication. 
Classes
You don't have to have a desire to be a cheerleader to attend ACE.  We teach progression tumbling classes for the preschooler through college-aged athlete. Our tumbling classes are geared to master beginning through advanced level tumbling.   We have many options to choose from along with individual lessons and open gym practicing for extra instruction.   
Along with our tumbling classes, ACE is the place to learn skills to be a cheerleader.  We have co-ed and multi-base stunt classes, cheer tryout prep classes, and specialty classes designed to train cheer mechanics!    
More information on our classes can be found at www.acetribe.com. 
All-Star Teams
If you want something more challenging, we offer our ACE All-Star competitive cheerleading teams.  This is our most advanced program.  Currently we have 4 teams – Mini Arrows, Golden Spears, Red Rampage, and Renegades.  Each team is made up of different ages ranging from age 5 to 18 and skill levels 1-5 (1 is beginner – 5 is most advanced).  Our teams are challenged with the true athleticism of cheerleading while working within a team dynamic. 
ACE of Tuscaloosa teams compete local and regionally.  Some teams have had the privilege of earning high status and receiving invitation to compete at the national level..  Many of our all-stars from the advanced training have gone on to be college cheerleaders, staff members, and coaches. 
School Teams
Many of our local school teams train at ACE of Tuscaloosa.  Training as a team we work safety in stunting, overall cheerleading technique, team tumbling skills, and help each team improve their work ethic and unity.  School teams from bordering counties also take advantage of our knowledge, facility, and elite staff.
ACE of Tuscaloosa is a family!  We love our athletes that train at the gym!  Just as much as they learn from us, our staff learns from them.  Being a place where kids know they can be challenged and loved is so special to us.  
---
---