Fighting Dragons and Making Doughnuts: A New Column for Parents of Teens

Mar 15, 2017 12:12PM, Published by Kitty, Categories: Teens & Tweens, In Print, Family, Today
---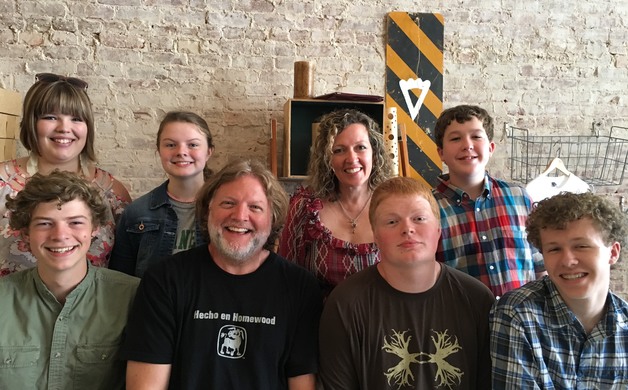 ---
Fighting Dragons and Making Doughnuts: A New Column for Parents of Teens

"Check this out," Parker said, as he slid his silver sword out of its sheath and began moving it dramatically in the kitchen. Parker, now 12 and taller than me, twisted and turned as he waved his sword in various positions, ready to attack any foe.
"You should see what I can do with my sword," Hunter boasted, as he took a bite out of his doughnuts and then swigged down some milk.
"You should see me handle a horse," Sophie interrupted and strutted towards the green and white box.
"What about a missing horse?" Seth asked, coming in late in the conversation and mishearing Sophie's comment.
"Hey Beautiful," Greg said, as he came into the kitchen, grabbing his mug of coffee, then kissing me on the cheek. The kids groaned, so I purposely moved closer and kissed him again, waiting for more protests from the kids.
"Oh please," Elijah grunted as he sleepily joined the group.  
"I talked with Emma last night," Greg added, and a flurry of questions ensued.
Quickly, the conversation changed to  "Hey Dad, can we go…" to "Hey Dad, when can we…" which melted into "Hey Momma, what are we.." and followed up with "Hey Mom, when can I.."
Six years of being a single parent has now become six years of being married and in a blended family. What started with children of ages 6 (Parker), 7 (Sophie), 9 (Seth), 10, (Hunter), 11, (Elijah), 13 (Emma) is now 12, 13, 15, 16, 17, and 19. During this time, we have experienced sickness, health, traveling, moving, elementary to middle to high school to college to working. Girlfriends, boyfriends, best friends, and enemies have crossed our paths. Each moment arrived without an instruction booklet. Each decision made was one that wasn't programed in a computer with the result coming out as we had expected. Every minute has felt like we have been fighting dragons and making doughnuts.
Some would say it is an adventure to fight a dragon. Others may say it is fun to make homemade doughnuts. However, the key word is the "and." It is not an "or" situation. Often I can feel like I am doing both—fighting not just one dragon, but many dragons while I'm making doughnuts. If you have ever attempted to make doughnuts, then you know it is a lot easier to head to the local Krispy Kreme or Dunkin Donuts than it is to deal with the hot grease, the sticky dough, and the complete surrender you have to the combination of these two elements. No matter what moment in life—single parenting, blending a family, or relating to a teen or tween—it is challenging, maddening, frightening, and completely unexpected.
When I began writing for KidsLife magazine, I was a single parent with two young boys. I wrote articles about situations with the kids that reminded me how God loves me, how He loves my kids even more, and how I was never alone.
Then I began writing a blended family column about being married again, blending six kids into a home of love and chaos, and becoming one family instead of two families living together.
I stopped writing because I was in the midst of a lot of change—blending households, adjusting families, moving locations, switching job placement, etc. However, during this time, I was reminded of the things that brought me to writing as a single parent. First, even when I am in the darkest of places, I am reminded that God loves me with unabashed, wild, unconditional, overwhelming LOVE. Next, God loves my kids—all six of them—more than I do. I argue with Him that He doesn't, but He proves me wrong every time. Finally, even in the push and pull, the stretching and bending, and the making this up as we go, I discovered that I can rest, cling to, hold on, and press into the One who creates all things, knits each of us together, and holds a future of hope and glory. In the midst of it all, I am never out of His hands.
I am writing these articles for the same reason I started writing the single parent column. Hope. Sometimes when I am at my wit's end and I doubt that God is truly God, I am longing for hope. Songs and scripture can give me hope; however, when I connect with someone who has faced a similar situation, I am encouraged, relieved, and inspired.  I find that I am not fighting real dragons or attempting to make anything as wonderful as doughnuts. When I reach out and welcome in that person—my husband, my family, my friends, my kids—on what I am struggling with, His Light comes into the darkness that seems to surround me. It is a conversation with a friend about why my kids do what they do. It is Greg's arms wrapped around me when I am so afraid of the future and he whispers, "it's going to be okay."  It is that quick comment of "you're a great mom" from one of the kids.  It's that phone call from my sister, my cousin, or my parents, just checking in, and a conversation becomes more than just a quick hello. It's when the kids have a sense of wisdom and when they know I'm worried about someone, they smile and say, "don't worry."  But I still worry. I still cry. I still pray desperate prayers that often have no words, only that which the Holy Spirit understands.
My articles won't be step–by-step ways to handle your teen or advice on how to navigate through blended families. It won't be ways to create closeness with your spouse or how to deal with your tween's newfound way to annoy everyone in the family. I simply want my articles to be a voice of hope. Whether you are single parent, a blended family or someone relating to teens and tweens, everyone needs to be reminded that he or she is not alone, that God loves them extravagantly, and God is the author of all hope. My articles will be on every day life and outlooks, struggles and perspectives, and fighting what appear to be dragons and making something sweeter than any doughnut.
Jody Evans is a writer and teacher. She and her husband Greg are Tuscaloosa natives who enjoy spending time with their kids, their families and their friends, and their rescue dog Sadie. 

She can be followed at her blog fightingdragonsandmakingdoughnuts.blogspot.com.
---
---