The ACT presents ANNIE

May 03, 2017 06:37PM, Published by Kitty, Categories: Teens & Tweens, In Print, Family, Today, Community
---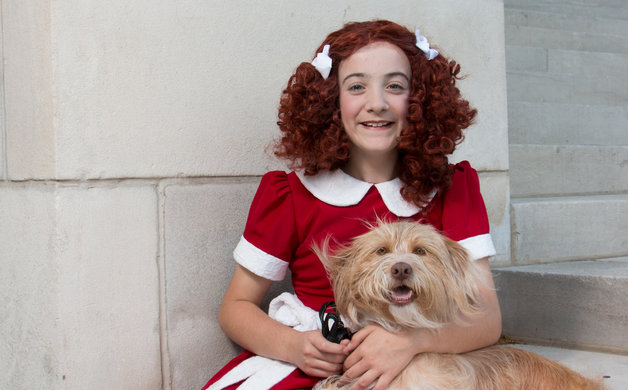 ---
Leapin' Lizards, it's Annie the Musical!
By Annie Ellis
Kick off your summer at the Bama Theatre where the "sun'll come out tomorrow!" – if tomorrow happens to be the weekend of June 2-4, when The Actor's Charitable Theatre (ACT) presents the musical Annie. This sweet story will enchant family members of all ages and includes such unforgettable songs as "Hard Knock Life," "Easy Street," and the eternal anthem of optimism, "Tomorrow."
Annie is the perfect show to introduce your children to live theatre, full of heart, laughter and music. It's the story of spirited young Annie, who lives at Miss Hannigan's orphanage (really more of a sweat shop where the girls provide free labor!), but is determined to find her real parents. Her luck changes when she is chosen to spend Christmas at the residence of famous billionaire Oliver Warbucks. Annie easily charms the big guy and he tries to help Annie find her parents by offering a reward. In response, con artists Rooster, Lily and the wicked Miss Hannigan devise a scheme in order to claim the reward. But like any classic family tale, Annie has the happiest of endings for Annie, "Daddy" Warbucks, and the whole gang.
While most know the story of Annie, not everyone has experienced a live performance. "I think a lot of people love the movie but have never seen it onstage," said Joey Lay, The ACT's artistic director and the director of Annie. "I think it's one of those shows every theatre company has to do at some point, and with the level and number of talented young girls in this community, I decided it was time."
In fact, The ACT's production will include a total of 13 orphan girls including Annie, who will perform a show-stopping "Hard Knock Life" dance sequence, among other entertaining scenes. Choreographer Benji Stockton (who has a B.A. in theatre from The University of Southern Mississippi with an emphasis in performance, scenic design and directing, and worked in professional theatre in Atlanta for 10 years) hinted at the complexity of the choreography by sharing that "Hard Knock Life" includes more props than all those used in the whole show, and the girls will be incorporating all of these props in their dancing.
The entire show will feature fresh, new choreography that is unique to this production. But along with this innovation, Stockton also managed to incorporate a familiar touch by giving "respectable nods to the original 1977 Broadway show, 1982 movie, 2012 revival, and even the 2014 movie version," he said.
Playing the title role of Annie is Caroline Gibson, a sixth grader at Echols Middle School, who began appearing in local theatre productions at the age of eight. Annie will be her 13th show, and ACT fans will remember her from her role as Jane Banks, one of the two children cared for by Mary Poppins in The ACT's production in 2015. In addition to acting on stage, Caroline plays the piano, guitar and ukulele, and is an accomplished vocalist who has competed in singing competitions across the Southeast. Looking ahead, Caroline says, "I want to try out for The Voice when I turn 13, and someday study music in Nashville and hopefully become a professional performer."
The part of Oliver Warbucks will also be played by an ACT regular, Greg Vander Wal. Greg played Caroline's dad - Mr. Banks - in Mary Poppins, and most recently played The Beast in last fall's Beauty and the Beast. Greg's other roles with The ACT include:  Bill Sykes (Oliver), Dennis Galahad (Spamalot), Little Pig (Shrek) and Lurch (The Addams Family). Greg has sung in choirs for most of his life:  in middle school, high school and church, and as a member of the A Capella Choir at Samford University for four years during his undergraduate studies. And what about Oliver Warbucks' trademark bald head? "I'm always game to try something new (like shaving my head), but I think I'm developing an irrational fear that it won't come back," Vander Wal joked.
And Sandy, the stray mutt who becomes Annie's faithful friend, will be played by Pharaoh, a four-year-old terrier mix that has her own successful adoption story:  two years ago, she was adopted from the Tuscaloosa Metro Animal Shelter by Grace Conner. Now, Pharaoh has a chance to shine on stage alongside her owner, as Grace appears as Mr. Warbuck's personal secretary Grace Ferrell. Grace, who played Belle in The ACT's Beauty and the Beast last fall and will complete a degree in vocal performance from the University of Montevallo this year, developed yet another stage skill in preparing for Annie. "I've been training Pharaoh for this show all year, and I know she is going to make a wonderful Sandy," Conner said. "Of course, she is a dog and you never really can predict if a dog will perform on cue under the spotlight or will prefer to chase her tail – but that's part of the magic of live theatre!"
Annie - The Historic Bama Theatre
Friday, June 2, 7:30 pm
Saturday, June 3, 2:00 and 7:30 pm
Sunday, June 4, 2:00 pm
Ticket prices:  Adult $20, Senior $18, Student $16, Kids $12
To order tickets:  www.theact.info or (205)393-2800

Enter coupon code KIDSLIFE when purchasing online to receive $2 off each ticket
 
---
---