Fighting Dragons and Making Doughnuts: The Journey of Trying

May 11, 2017 11:02AM, Published by Kitty, Categories: Teens & Tweens, In Print, Family, Today, Community
---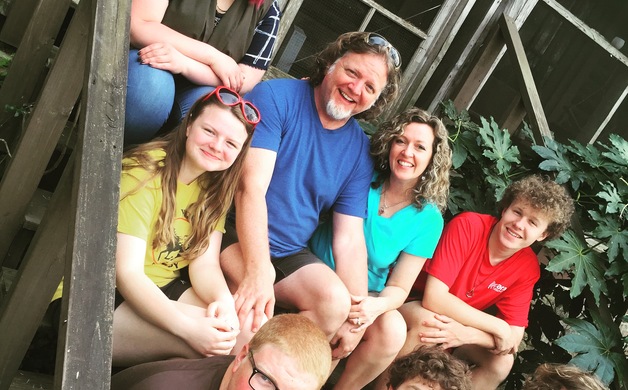 ---
The Journey of Trying
By Jody Evans 
           "That was fun," Parker stated, as he climbed into the car, hot and sweaty and grabbing the bottle of water I had for him.
            "So you liked all of that?" I asked, shocked by his noticeable enthusiasm. Parker rarely expresses excitement for most anything other than a Star Wars marathon or a new Lego set to assemble. He and I had auditioned for Annie, a production for the Actor's Charitable Theater, and both of us had to sing and dance in order to possibly get cast.
            "Yeah," he continued. "It was great."
       I looked at my man-child-- this 5'9", twelve-year-old boy, who prepared the song "Sixteen Tons" to show off his bass voice, and then attempted to dance to the song "Easy Street." With my degree in theater and a number of years of directing shows, I have seen many auditions, heard numerous songs performed, and assisted in various staging and choreography. However, with my own son, I could not determine exactly where he landed in the category of talent. Yes, his voice is deep and surprising, but it can be rather flat and talky. When I watched him dance, I saw a linebacker running drills on the field, not a smooth Fred Astaire gliding on the dance floor. I can't say I looked much better as my pitch was off and my steps were awkward.  However, we both agreed that even if we didn't get a part, we had fun trying.
      Trying. I'm not sure why that word sounds like it isn't enough. Maybe it is because it gives a sense of expectation that is somehow limited. Trying to do something makes a person—me, in particular—feel like my best is never good enough. The act of trying can sound like a half-hearted effort. It seems like everyone knows that when you try something, it can easily become a disaster and suddenly, you find yourself in a viral video where you are falling down and looking foolish.
      Whenever I watch the kids or Greg or any of my friends do what they love to do, I see a part of them that comes alive. When Emma grabs a shirt that I had planned on throwing out and puts it with a skirt I hardly wear, she shines as she styles a new outfit. When Elijah gets his knife carving kit and sharpens a dull blade to his satisfaction, he becomes the craftsman, smiling as he slices paper magically. As Seth sits for hours, painting with much detail on an intricate work, he becomes the art rather than the piece he is working on. Hunter pulls out that gold saxophone and places his reed precisely, warming up with intricate notes and he is the music. Sophie confidently slides onto the saddle, reins in hands, and this tiny girl becomes larger than life on the majestic horse. When Greg strums his guitar and sings to me or tells a story that follows with a big laugh that can warm up a cold room, I fall in love with him again. Yet, each of them takes a risk that could lead to failure. The act of trying could become moments of embarrassment or rejection as each person "tries" to follow his or her passions.
    As I watch each person do what they love, I don't see attempts or "trying." I see life. I see love. I see the Potter shaping the clay into the ways He designed them. Even if they "mess up," my eyes see joy, happiness, and perfection. Yes, I am their mom and I am Greg's wife and I am wholeheartedly bias. However, I am also human.      
Matthew 7:11 says "If you, then, though you are evil, know how to give good gifts to your children, how much more will your Father in heaven give good gifts to those who ask him!"
Maybe God sees us like that in a grander way. Not as perfect, but as loved, rooting for us as follow in the interests that He placed in our hearts. Maybe trying is part of the journey that God has planned for us and through trying, we find ourselves closer to Him.
        As I watched Parker turn left when everyone else turned right in the dance audition, I smiled, seeing his autism badge shine as he took the choreographer's directions literally—right then left. When I heard him sing, I didn't hear the off-pitch notes. Instead, I heard passion and meaning behind the words, "when you see me coming, you better step aside." And I saw the smile on the judges' faces as they experienced Parker's rendition of the song.
            "Did you really have fun, Parker?"  I asked a little while later, as we headed for home.
            "Yep." He said.  A simple answer to something I attempted to analyze way too much.
            "And if we get in, great." I said. "And if we don't, great. We had fun tonight."
            "Yep." He added.
            I smiled, knowing I got to be a part of something that may be an activity that Parker becomes passionate about. Or it may have simply been an experience he wanted to try.
            "But it would be cool if we got in," he added.
            "Yep," I said. "It sure would. "
~ Added note: We did get in! Parker was cast as a police officer and a Marine; I was cast as an apple seller. Our attempts to sing and dance opened a new door to an adventure of rehearsals and performance. We hope you come to the show. Maybe it will inspire you to try something you have always wanted to do. We are cheering for you to do it! The journey of trying awaits.
Jody Evans is a writer and teacher. She and her husband Greg are Tuscaloosa natives who enjoy spending time with their kids, their families and their friends, and and their rescue dog Sadie. She can be followed at her blog fightingdragonsandmaking doughnuts.blogspot.com. 
---
---