Spread Too Thin

May 12, 2017 11:28AM, Published by Kitty, Categories: Teens & Tweens, In Print, Family, Today
---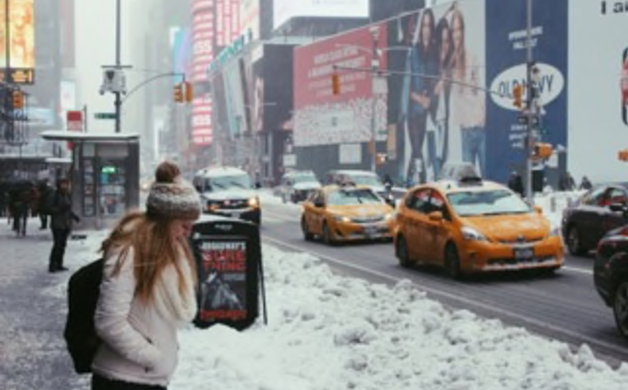 ---
Spread Too Thin 
By Farris Turner
Hello!
The writing of this article is actually a funny story. This article was due several days ago, but I have been slammed with studying for finals, so I decided to pass on publishing anything in this issue. However, it is currently 11:33pm, and I have spent the past hour arguing with God about getting up to write a column. My heart is heavy with strong feelings of longing and contentment, joy and grief. And while I thought asking God to let me sleep was the most efficient option, God has won the argument, and I now sit in the darkness of my living room, trying to figure out what is so important that The Lord wants me to write. So here I go.
The past few months have been a whirlwind. My life is already a bit different from the average teenager, because I am homeschooled and I work in the film industry. (By work, I mean tirelessly train and audition, and get paid a small amount to be in independent films once in a blue moon. Nevertheless, I love every minute of it.) And I am incredibly blessed to have parents with the resources, and the compassion, to take me places that I have lost a bit of my heart to.
About three weeks ago, we took a trip to New York. It was absolutely amazing. Being completely immersed in the business, and ambitious-energy of the city life gives me such a rush of motivation. Thanks to my amazing coaches and my hard-working mom, I had the opportunity to go in for my first off-Broadway audition. As you can imagine, I was experiencing every emotion from running up and down the halls of the Hyatt in Times Square belting Kinky Boots, to being up the entire night before battling insomnia and anxiety.
By God's grace and several hours of preparation, I went to the audition, and I did my very best. And I got the part! I leave at the end of June for New York. What? That still hasn't sunk in for me. Just a day in the city gives me enough joy to last a year, but a whole month? God is good.
But in the midst of being cast and making all of these summer plans, another thought has continued to linger in the background: What about Honduras? I told them I would be back.
Two months before our trip to New York, I was at the Good Shepherd Children's home, loving on my family there. At the end of the trip, I told the kids with confidence that I would be back in July. And I was confident. There's nowhere else I would rather be, I have the opportunity to come back for a month over the summer, so why wouldn't I be confident?
I completely forgot that I am not in charge of my plans.
One of the first things I was told on my first trip to Honduras was, "Never promise the kids you'll be back." This sounded absurd to me, because those kids are in my thoughts and prayers all the time. But now I see the truth in that warning.
            God's timing is completely different than ours'.
Thinking about not seeing Kimberly, Kevin and Yolanda for a while is enough to bring me to tears and cause an awful stomach ache, but I have to believe that God, who is sovereign over the universe, can handle something as insignificant as my schedule.
One of the side effects (good and bad) to owning a 'dreamer' personality like mine, is that naturally, my mind is always far from my physical place. My thoughts are always trained on Kimberly and the kids at the Good Shepherd Christian Academy. Or other times my thoughts are on what's going on backstage at Dear Evan Hansen in New York City. This isn't always a bad thing, but not taking advantage of where God has you in this moment, is a form of not trusting God's timing.
This very moment was planned by God with just as much enthusiasm as when I stepped into that audition room in New York. Our perspective of 'important moments' prevents us from valuing our time. God's time. Looking back on how God's timing works brings peace and confidence that He will provide again. But we seem to forget this feeling, when we look ahead and start to plan the future. We are blinded by our emotion such as longing for a special friend (like Kimberly) or a special place (the electricity of Times Square).
Passionate people like us tend to be spread too thin. Our hearts can only be given to so many people and so many places, until our joy for the present moment is overtaken by our longing for a different one. The only remedy for this is trust. It is for us to completely release our plans and our passions to a loving God who knows and understands how much people and places can mean to us. He knows that Kimberly is safe and happy, and I pray He will send people to give her love in my place. (I can name several people I know who will. J)
Yes, I am grieving over the time I will be away from my friends and adventures in Honduras, but I am trusting that my God who is faultless and worthy of all my trust has a new heart-capturing adventure waiting on a stage in the city that stole my heart.
Invest your overflowing, passionate heart in people and places without worrying about it breaking. Trust God with your fragile heart, and He won't ever let you be spread too thin.
Farris Turner is a high schooler who was raised in Tuscaloosa, Alabama. Her family recently moved to Ft. Lauderdale, Florida, and in an attempt to stay connected, some of her friends encouraged her to start a blog. She is extremely passionate about the effectiveness of youth, and their right to have a valued voice in society. If you would like to comment on their column or suggest future topics, you can find her on Instagram (@farristurner), Twitter (@farristurner04) or find her blog on Wordpress (https://farisanne.wordpress.com/). 
---
---