Fighting Dragons and Making Doughnuts

Jul 04, 2017 03:04PM, Published by Kitty, Categories: Teens & Tweens, In Print
---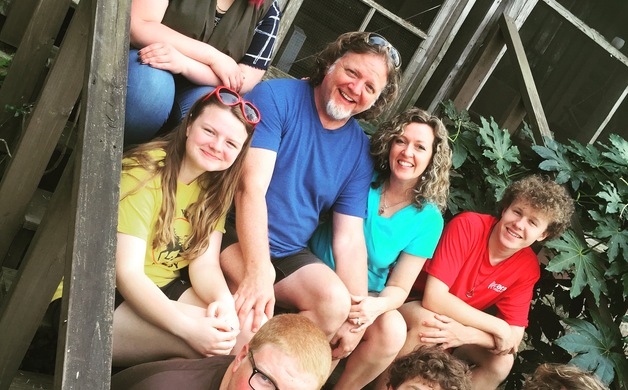 ---
"Oh, Dad!" Emma said, as she hugged Greg and proceeded to get in her car and drive away to work. I waved to her as she turned the corner, honking the horn in a playful way.  I turned around and saw my teary-eyed, tender-hearted husband wiping his eyes. 
"She's gone," he said. 
"She's going to work," I said. "She'll be back in a few hours." 
"I know," he said. "But it is more than just going to work. She's growing up, and it just goes by too fast." 
Fast forward four years and I am standing in my kitchen, making waffles and hot chocolate for Hunter before he auditions for a band event. He lumbers into the kitchen wearing a plaid shirt and jeans. 
"You ready?" I ask. 
"Eh. I think I'll play about like I bowl," he says. 
We both laugh as we think about how Hunter bowls—just pick up the heaviest ball there is, raise the bumpers on the sides to avoid gutter balls, and then just throw it. He doesn't roll it or line it up. Hunter's bowling skills are similar to a baseball player pitching with a 16 pound bowling ball. 
The conversation continues about school, work, friends, and plans with the occasional song sung about our dog Sadie. The conversation is quick, easy, and fun. It is similar to most conversations we have daily. 
"Well, I gotta get going," he says. He heads into the den to get his backpack and saxophone. 
"I've got something for you," I call out. 
He heads into the kitchen to see what I have, curious to see if it is something for the trip. 
I hold up a bag of garbage. "Here," I say, smiling. " Take this out as you head out." 
He stops and shrugs, halfway laughing and definitely smiling. 
"I hate you," he says, taking the garbage and heading out.     
"Hold on," I say. He turns and this young man who lives in my home and my heart, this boy-turning-into-a-man stops and looks down at me. 
"Good luck," I say, as I lean in and we hug. 
"Thanks," he says. 
"Let me know how you do," I say.
"I will," he says. 
"I love you," I say. 
"I love you, too," he says. 
And with that, he goes out the door, his saxophone on his back, his backpack in hand, as he drops the trash in the garbage can.  He puts his items in his car and I watch him, seeing him get settled in and then he drives off. 
"He'll be back in a few hours," Greg tells me. 
"I know," I say, choking back tears, knowing that little by little these steps will be taking him farther away. 
No matter how much Greg and I know that God loves our kids more than we do, it is incredibly hard releasing them bit by bit. The crazy thing is, they have never been "ours." They have always been "His."  They are uniquely, fearfully, and wonderfully made. They are individual as a handmade doughnut. They are magically different as a mystical dragon. God has a unique plan for each of them.  Knowing all of this helps, but it doesn't make it easy. Change is always hard, but it is especially hard when you see the ones you love change in ways that means you have to let them go.
That's when hope kicks in and I sing "my hope is built on nothing less than Jesus's blood and righteousness, On Christ the Solid Rock I stand, all other ground is sinking sand." That's when I sing songs, not about our dog, but about the One who has been with them when they were formed and can take care of them on their journey. It is not easy, but it is the only way I know how to make doughnuts and fight dragons at the same time. 
"Momma?" Parker said, interrupting my thoughts. "Can I have this other waffle?" 
I smiled. "Of course you can." 
"Could you make some more?" Sophie chimed in. 
I return to the kitchen and mix up some more batter, enjoying this time, this moment, that is racing by way too quickly. 
---
---