The Story of Anna Pruitt

Jul 04, 2017 03:41PM, Published by Kitty, Categories: In Print, Family, Today
---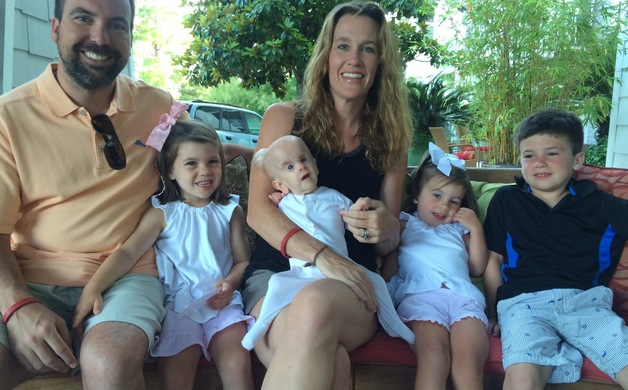 ---
The Story of Anna Pruitt
by Rachel Harrison (with Mary Grace Lyon)
            This is our angel, sent to us from heaven. 

            Her eyes would not see. Her ears wouldn't hear. Her lungs wouldn't draw breath. Her feet would never walk. Her heart would stop within hours of birth. This is what the doctors told us would happen to the baby in my womb, our fourth child, Anna Pruitt. 
            Doctors encouraged us to terminate her life at 24 weeks. Alabama state law allows abortions up to 20 weeks  but specialists told us they could use her unformed cerebellum measuring just 18 weeks in size to justify her later termination. We were advised to abort and given two weeks to decide. 
            All of this was recommended because she is not "perfect." To me, it implied Anna Pruitt is less than worthy of life, that she isn't as valuable as a baby deemed "healthy." It implied the road less traveled would be impossibly hard. A choice to terminate implied the easier and better way would be to end her life.
            But God tells us all these things are not true. He used Anna Pruitt to show our family that we are each unique  and all are made perfectly in God's image. Not one life is more or less valuable than another. All of us were created for a purpose: to glorify our Creator and use our gifts for His glory. Anna Pruitt is a teeny tiny reminder of a great and mighty God. 
            I am nervous writing this. In no way do I consider myself better than anyone else. I would never intend to shame any woman or mother who has made the difficult decision to have an abortion. I definitely haven't walked the roads many of you have walked, and I consider myself immensely fortunate. God has shown me unending grace for my many mistakes in life.
            I am a woman and a mother who, though I trusted God with Anna Pruitt's life, still had severe doubts about His goodness. I prayed for the Lord to take my unborn baby in miscarriage so I wouldn't have to watch her die. I am a woman whose blood pressure was over 250 when her "special" daughter was born because she wasn't what I expected. 
            I crumbled from the sight of my daughter not looking perfect on the outside, yet knowing she wasn't perfect on the inside. How sad is that of me? I was heartbroken at my own thoughts. We were told our daughter wouldn't live hours. And she was ALIVE, but not what I had envisioned for our family. I was ungrateful because this wasn't what I wanted. I, too, am guilty of believing lies.
            I was scared to speak out for the unborn, because who am I to think I have any right or voice? I don't. But God does, and I choose to channel His voice. Anna Pruitt and others like her are God's children. God's Word tells us all life has purpose, and even the most tragic things can be used in a mighty way for His glory and our good. 
            We can't keep believing abortion is pro-women and an acceptable choice. There was no choice for me in the lie that termination was the only way, a decision grounded in fear and absence of hope. Like me, women facing an uncertain future need love, care, encouragement and hope. 
            Look at my baby who was deemed unworthy to live by medical professionals, yet she is turning three years old this summer! Alive! And she shares the pure joy of Jesus with everyone she meets.
            Anna Pruitt is one of God's greatest gifts to our family. She shows us more of Jesus and the joy in simple triumphs. "Special" doesn't even begin to describe her! I'm undeserving of my many blessings. I'm humbled. I am forever changed and grateful. I'm thankful in my doubts and fears God never gave up on me. He walks with me every step of this journey. 
            With her eyes, Anna Pruitt teaches us to see God's goodness in all things. With her ears, she teaches us to hear God's voice. With her hands, she shows us how to open arms wide to love others. With each step she takes, she makes giant leaps of faith. With each breath, she teaches us to depend on Jesus. And with every beat of her little heart, she reminds us of God's faithfulness. Anna Pruitt has taught us that God is big enough to handle our disappointments, fears, and challenges if we give them to Him. 
Rachel Harrison finds her greatest joy in knowing and loving Jesus, her husband Brian, and her four (soon to be FIVE) children. Originally from Montgomery, Alabama, she is a graduate and former gymnast at Auburn University.  She is the sole teacher at Harrison Academy, where she homeschools her children. 
---
---