ON OUR COVER: UpSurge Trampoline Park

Jul 04, 2017 03:56PM, Published by Kitty, Categories: In Print, Community
---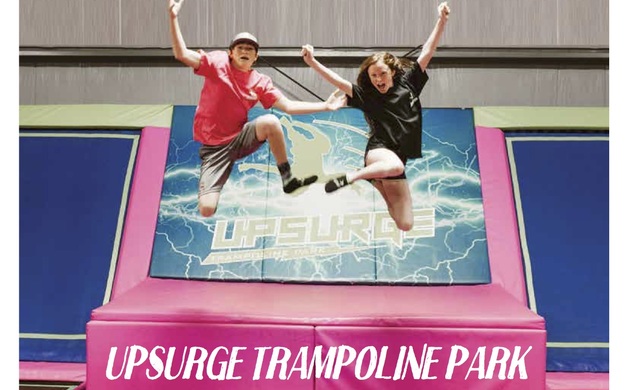 ---
What made you decide to bring UpSurge to Tuscaloosa?

In 1988, my parents opened their third skating rink, Super Skate. So many of us in Tuscaloosa can remember the great memories made inside those walls every Friday and Saturday night. Land was purchased in Northport for another skating rink, but by the time I got ready to build it, the skating rink was just not what I had in mind. We actually began the process on our land in Northport, but after dealing with several setbacks, we moved forward to build on our land next door to Super Skate in Tuscaloosa. It has really been a blessing in disguise. It is my hope that our kids have the same great memories here at UpSurge.
What separates UpSurge from other indoor activities?
UpSurge is a great way to exercise without realizing it. Unlike skating or bowling, anyone can jump on a trampoline. Certainly, it takes talent and practice to do tricks and flips, but EVERYONE can jump.
How many staffers do you have working at any given time?
Our goal is to provide a fun, safe environment, so on any given day we have between 6 and 15 "Surge Protectors" in the arena, based on the number of jumpers at any hour.  Our staff is happy to assist jumpers, even the smallest ones in all areas of UpSurge, so all can participate and enjoy.
What activities/sections do you have?
·      A main court with 25 trampolines, 2 40-foot tumbling tracks and an 80-foot long tumbling lane.
·      A hydraulic basketball goal which is a lot of fun! Even the smallest kids can practice their slam dunks.
·      A foam pit with a high jump, a box jump, and a regular trampoline jump with a side wall option.
·      2 dodgeball courts which can be separated by age and intensity level.
·      A 3-lane ninja course with different skill levels that will challenge even the most fit warriors.
How often do you reach capacity?
Actually, not as often as one might think! Our capacity is more than that of the other parks in the area. Our busiest times are:
·      Saturday 1pm-4pm
·      Sunday 2pm-4pm.
Mondays through Fridays are less crowded unless we have groups scheduled, with summer camps typically booking from 10am-12pm.
What ages can UpSurge accommodate?
We don't have an age requirement. Parents should use their own good judgement. At times a one-year old would be completely fine out there, and other times it might be hectic for a 5 year old. Again, parents should use their judgment.
What are prices?
Jump prices are $15.00 for 1 hour and $25.00 for 2 hours, tax included.
What are jump times?
Monday – Thursday, 10am until 8pm
Friday and Saturday, 10am-11pm
Sunday 2-8pm
What type of socks are needed at UpSurge?
We do require our jumpers to wear UpSurge Grip Socks, at $3 each. These socks are reusable and kids love them!
Our socks have a special grip for these surfaces, which helps prevent slips and falls that socks from home cannot. And our staff can quickly confirm that all jumpers are wearing the correct socks when they are identical.
Hygiene is another important factor in order to keep our facility clean for all to enjoy.
Do you offer any discounts?
Following us on Facebook or Instagram is the best way to stay up to date with our flash specials!
Keep on the lookout for our T-shirt specials when you can wear your UpSurge shirt to get an extra hour of jump time. We also periodically offer a percentage off, BOGO, or a raffle.
What special events do you offer?
We are currently planning for a dodgeball tournament over the summer months.
In the fall we will have toddler hours again and a fitness class is in the works.
What can parents do while their children jump?
We have an upstairs area for parents to sit and relax, with comfortable couches and a TV viewing area.
---
---