Miss Alabama 2017 Jessica Procter

Jul 04, 2017 04:22PM, Published by Kitty, Categories: In Print, Today, Community
---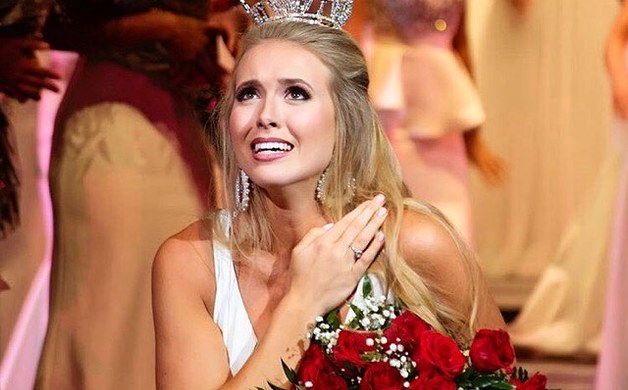 ---
Miss Alabama 2017 Jessica Procter
"Don't let anyone look down on you because you are young, but set an example for the believers in speech, in life, in love, in faith, and in purity." 1 Timothy 4:12. This has been of one of Jessica Procter's favorite Bible verses that has guided her on her journey to Miss Alabama 2017.
She also lives out the saying, "To whom much is given, much is required," focusing daily on leaving people better than she finds them. Sometimes she touches those she encounters with a song. Whether a National Anthem at a UA ballgame or performing for a local senior citizen's retirement home, she always gives it all she has:  "I don't sing because I'm happy, I'm happy because I sing."  At other times, through her platform, "Step Up to the Plate," she zeroes in on filling their stomachs. Whether organizing a canned-food drive at a local school, meeting her friends at 7:00 AM to restock food shelves at the local food bank, volunteering at the soup kitchen, or speaking to empower others to duplicate her efforts, food insecurity is always foremost on her mind.
A typical twenty-four hours in the life of Jessica Procter might include giving counsel to a troubled eighth grade girl during a 7 AM breakfast, attending her UA classes, polishing some new lyrics in the latest song she has written, dropping off a car load of donations to the West Alabama Food Bank, running to an evening sporting event, packaging and delivering leftover food until the wee hours of the morning with her fellow Greek volunteers, and then leading worship at her church the next morning.

A 4.0 GPA President's List senior at the University of Alabama majoring in Interdisciplinary Studies with a minor in Psychology, Jessica did not grow up as a "pageant girl." At age seventeen she entered her first two preliminary pageants ever, entering the Miss Tuscaloosa's and then the Miss Birmingham's Outstanding Teen pageants, both little sister preliminaries to Miss Alabama in the Miss America system. Placing second runner-up in both of them, she had a blast! After being named Miss West Central's Outstanding Teen, she won her third pageant, Miss Alabama's Outstanding Teen, where she then went on to represent the state of Alabama at Miss America's Outstanding Teen, winning double preliminaries and finishing second runner-up overall. This is important, as this awarded her so many scholarships that she will graduate completely debt-free from the University of Alabama. Most people think of Miss America as only a "beauty pageant," but it is first and foremost a scholarship pageant. As a matter of fact, the Miss America Pageant is a leading advocate for women's education and the largest provider of scholarship assistance to young women in the entire United States.
While still an honors student at Northridge High School, Jessica served out her year as Miss Alabama's Outstanding Teen. Thereafter, she began competing in the Miss Alabama preliminaries. After serving as Miss Center Point and Miss Tuscaloosa, she represented the Miss Leeds Area all of last year before taking the title of Miss Alabama earlier this month. One of her proudest moments of this year's pageant week was at the scholarship luncheon, where she was awarded the prestigious Catherine Crosby Long Award for Community Service for her personal platform, "Step Up to the Plate."  She partners with the West Alabama Food Bank to fight hunger and food insecurity through canned food drives, the "Fifth Quarter" program which saves leftover quality food from gymnastic meets, football and basketball games, and repackages it for quick distribution among the hungry right in our area. Through Jessica's efforts in raising awareness for food insecurity, this program is now being implemented this year on the national level to five other university campuses across America and has been adopted as the national philanthropy of her sorority, Alpha Gamma Delta. One of her goals is to take "Fifth Quarter" to all college campuses across the United States.
Currently half of the music duo, "YOU & I," Jessica wishes to become a successful singer/songwriter, a Christian counselor, and whether as a job or as a volunteer, to lead praise and worship in her church. In the near future however, she advances to represent our state in the Miss America Pageant in early September in Atlantic City, New Jersey. The finals night will be aired on national television on Sunday, September 10. 
---
---